Giannis D
The Giannis D is one of four wrecks on the north side of Sha'ab Abu Nuhas reef about halfway between Hurghada and Ras Mohammed. The reef is at the edge of the main shipping lane through the Suez Canal and is exposed to the prevailing northern winds. The Giannis D is the westernmost of the wrecks. She was a 100m Greek freighter sunk in April 1983.
Common lionfish, Pterois volitans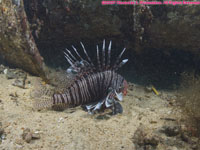 Back to Red Sea Photo Gallery. Back to home page.
©2008, 2017 Mermaid Underwater Photographic. All Rights Reserved.
Contact us at mermaid@underwater.org.
Last modified 14 March 2017