Sipadan
Sipadan, off the northeast coast of Borneo, is well-known for turtles. There are also many whitetip reef sharks, bumphead parrotfish and many other species. The wall offshore drops straight off to two thousand feet from chest-deep water, a great place for a beach dive.
Turtles
Green sea turtle, Chelonia mydas
We saw turtles on just about every dive. People told us the number of turtles had declined and there used to be more, but for us they were really easy to find and photograph. The third photo shows Charlotte moving in for a shot.
Sharks
Whitetip reef shark, Triaenodon obesus
We saw plenty of sharks but they did not get too close. The exception was on our checkout dive where a shark swam in with a school of jacks. The jacks rubbed against the coarse skin of the shark to remove parasites. Unfortunately we were not allowed to take our cameras on the checkout dive.
Parrotfish
Bumphead parrotfish, Bolbometopon muricatum
These huge bumphead parrotfish, Bolbometopon muricatum, were sleeping in nooks in the wall just in front of the resort. They were there for several nights and then they were all gone.
Clownfish
Clark's aneomonefish, Amphiprion ckarkii, and closeup with eggs
False clown anemonefish, Amphiprion ocellaris
More clownfish with their anemones.
More Fish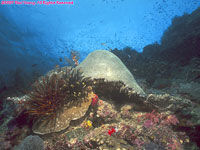 Six-banded angelfish, Pomocanthus sexstriatus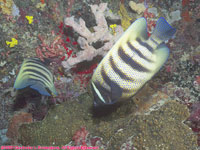 Bigeye trevally, Caranx sexfasciatus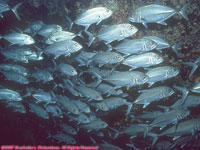 Titan triggerfish, Balistoides viridescens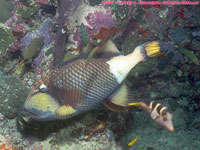 Island goatfish, Parupeneus insularis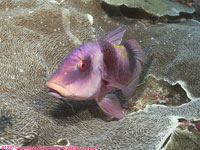 Common lionfish, Pterois volitans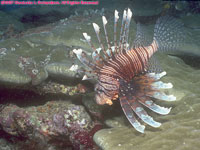 Spotfin lionfish, Pterois antennata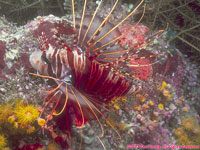 Pyramid butterflyfish, Hemitaurichthys polylepis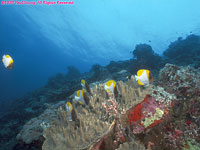 Bignose unicornfish (dark phase), Naso vlamingti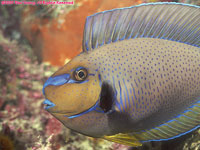 Anthias, Pseudanthis sp.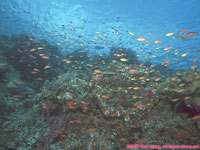 Blue and yellow fusilier, Caesio teres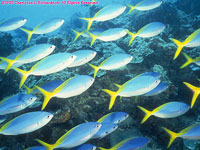 We saw butterflys, triggerfish, lionfish, and many more around Sipadan.
Nudibranch
Chromodoris dianae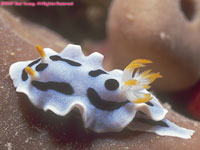 We found nudibranchs like this one along the wall in front of the resort.
Back to Borneo Photo Gallery Back to home page
©2003, 2017 Mermaid Underwater Photographic. All Rights Reserved.
Contact us at mermaid@underwater.org.
Last modified 30 November 2017