Mount Kinabalu and environs
Mount Kinabalu overlooks the city of Kota Kinabalu. The surrounding area is rice farms in the coastal plain and rainforests in the Crocker Range.
The Mountain
The fog in the valley makes the mountain seem distant. There are many waterfalls.
Plants
At the base of Mount Kinabalu there is a garden with many native plants from the area. The pitcher plants do not usually grow so high, and the ones in the valley are bigger.
Water Buffalo, Bubalus bubalus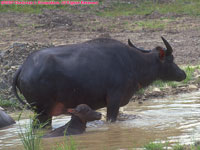 We passed a water buffalo and calf.
Underwater
Goniobranchus kuniei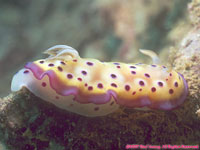 False clown anemonefish, Amphiprion ocellaris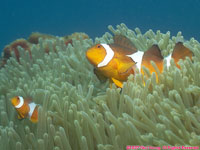 Common lionfish, Pterois volitans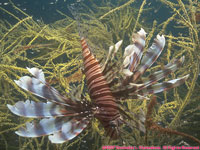 We did some diving off Kota Kinabalu to make sure our equipment survived the flights to Borneo. The near-shore reefs were still recovering from being heavily silted by a freak typhoon in December.
Back to Borneo Photo Gallery Back to home page
©2003, 2017 Mermaid Underwater Photographic. All Rights Reserved.
Contact us at mermaid@underwater.org.
Last modified 30 November 2017