Singapore
We took the free Singapore Air airport transit tour of Singapore on our way home from Borneo in April, 1997. This was great fun, a lot better than sitting around in the Changi airport, but currently (January, 2023) these tours are still not being offered due to the Covid pandemic.
Singapore is barely north of the equator at the southern tip of the Malay Peninsula. It has the third highest population density in the world. The Republic of Singapore has four official languages: English, Malay, Mandarin, and Tamil.
The Merlion fountain statue (not spouting water when we visited) is the official mascot of Singapore.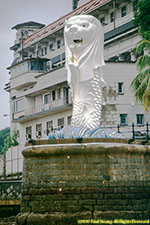 ©2023 Mermaid Underwater Photographic. All Rights Reserved.
Contact us at mermaid@underwater.org.
Last modified 29 January 2023