Parc National des Oiseaux du Djoudj
Djoudj National Bird Park, the world's third-largest bird sanctuary and a Unesco World Heritage site, is inland on the Senegal River 60 km northeast of St.-Louis. The Senegal River, which flows from the Fouta Djalou plateau in Guinea, is the first permanent source of fresh water south of the Sahara. Its wetlands are a major migratory stop for birds migrating from Europe from November to April. The park also has monkeys and warthogs.
Four hundred species of birds have been recorded in Djoudj.
A pirogue (small boat) is needed to get to the huge great white pelican breeding colony.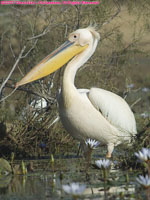 Back to Senegal Photo Gallery. Back to home page.
©2008 Mermaid Underwater Photographic. All Rights Reserved.
Contact us at mermaid@underwater.org.
Last modified 17 January 2014