Kingston
The wreck of the Kingston (or Sarah H) lies on the north side of Shag Rock reef 1 km southwest of Sha'ab Ali lagoon. She was a steam-driven cargo ship that ran aground and sank in 1881.
Pseudanthias sp.
Arabian surgeonfish, Acanthurus sohal
Red Sea anemonefish, Amphiprion bicinctus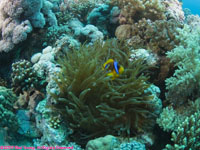 Dusky sweepers, Pempheris adusta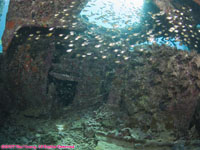 Back to Red Sea Photo Gallery. Back to home page.
©2008, 2017 Mermaid Underwater Photographic. All Rights Reserved.
Contact us at mermaid@underwater.org.
Last modified 17 March 2017