Carnatic
The wreck of the Carnatic lies east of the Giannis D on Sha'ab Abu Nuhas. She was a passenger and mail ship for the P&O line and sank in 1869.
Common lionfish, Pterois volitans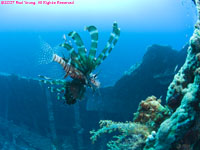 Carpet flathead (crocodile fish), Papilloculiceps longciceps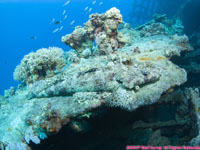 Back to Red Sea Photo Gallery. Back to home page.
©2008, 2017 Mermaid Underwater Photographic. All Rights Reserved.
Contact us at mermaid@underwater.org.
Last modified 18 March 2017