Chuuk (Truk)
Chuuk State is a large atoll with remnants of its original volcano forming eleven small islands within its lagoon, and 14 smaller atolls and low islands. The lagoon is 40 miles across at its widest point. Chuuk (Truk Lagoon) is best known for its spectacular World War II wrecks, a Japanese fleet destroyed in 1944.
Fujikawa Maru: The most spectacular wreck we dived, the Fujikawa Maru is a 436' armed aircraft ferry with large deck guns and lots of cargo, resting upright with the deck at 50' and the stubs of two masts exposed, near Eten Island.
Cushion sea star, Culcita novaeguineae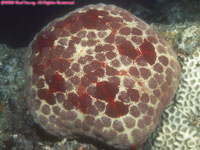 Blackfin barracuda, Sphyraena genie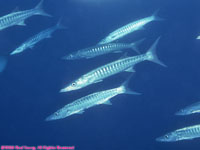 Lionfish, Pterois volitans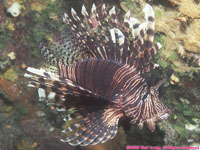 Sankisan Maru: a 370' cargo vessel lying upright in 50-100' with one mast exposed, near Uman Island.
Suzuki: a former destroyer rerated as a patrol boat modified to carry landing craft, very shallow with a slight list to starboard.
Shinkoku Maru: A well-preserved 500' tanker lying upright at 110'.
Heian Maru: Largest ship in the lagoon, a passenger ship converted to a sub tender, lying on its port side at 110' off Dublon Island.
Betty Bomber: Almost completely intact, near the former runway on Eten Island at 65'.
Yamagiri Maru: munitions cargo vessel with a cargo of 18" artillery shells, near Fefan Island at 75'.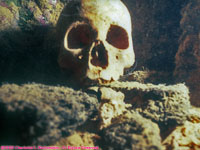 Emily Flying Boat: very large airplane lying upside-down at 50' off Dublon Island.
Kansu Maru (Kansho Maru): medium-sized freighter, upright with a slight list to port, at 25-130' near Fefan Island.
Gosei Maru: 270' cargo vessel lying on its port side at 10-110' near Uman Island.
Kiyosumi Maru (Kiyozumi Maru): large freighter reclassified as an auxiliary cruiser, lying on its port side at 100' near Fefan Island.
Futagami Maru: We have not located more information on this wreck other than that the name means "engine-and-sail boat".
Rio de Janeiro Maru: converted from a luxury passenger ship to a cargo subtender, lying on its starboard side near Uman island with the deck at 50', visible from the surface.
Topside scenes:
Back to Micronesia Photo Gallery Back to home page
©2007, 2017 Mermaid Underwater Photographic. All Rights Reserved.
Contact us at mermaid@underwater.org.
Last modified 14 March 2017