Trip Information
Both of us had excess vacation time which we had to "use or lose" by the end of the year 2001. We decided to use it in one big trip. As long as we were going to pay the airfare and suffer the jet-lag we might as well enjoy ourselves. So this vacation was a bit longer than five weeks.
We chose Tanzania because there was a lot to do. We had not been to Africa before, other than the Seychelles, so this would be our first safari trip.
Janet Breidenbach of Aqua Fauna Safaris was our primary travel agent. We've worked with her many times. She contacted several tour agencies and requested itineraries.
We selected Cape to Cairo. They suggested that we consider a private tour of the Northern parks. We would stay in the same lodges and camps as the group tours but we would have our own vehicle and driver. This would allow us more flexibility. We could extend length of the trip, which would allow us to see more of the Serengeti, and we could choose what day we wanted to leave. The price was actually less than some of the "big name" tour companies wanted for a group tour.
So we planned a 17 day safari.
The safari operator was Tanzania Serengeti Adventure, a company based in Arusha. Philemon was our driver/guide. They chose him because he had experience driving professional photographers.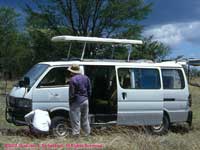 Our vehicle was a Toyota Hiace, a safari van with four-wheel drive and a pop-up top. We removed a middle seat which made it easy for us to get around and to aim a camera in any direction. The van wasn't as impressive looking as a Land Rover but it could go anywhere they could and was actually a better platform for photography.
We had one flat tire. We replaced it with one of the spares. We finished just before it started to rain.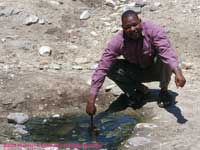 Here is Philemon explaining the origin of a sulfur pool.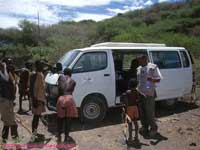 Here he is with some of the men from the Hadzabi tribe. We visited these people and photographed them hunting.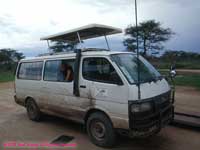 Some days the van would get pretty muddy but Philemon would have it washed and cleaned by the next morning.
We had four cameras, all Nikon, and several lenses including an 80-400 vibration reduction lens which Charlotte used for most of her photographs, and a 500mm F4 manual-focus telephoto which Paul used. A 1.4x teleconverter made this a 700mm F5.6 lens.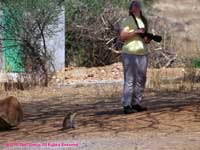 Of course, sometimes the animals were close and we did not need the big lenses.
Since there were only two of us we could do what we wanted. We usually took a box lunch and stayed out all day. Although the lodges and camps were nice we preferred looking at animals to hanging around buildings.
Our favorite areas for wildlife were the Lobo and Seronera areas in the Serengeti, and for scenery the Moru Kopjes. We also liked and the Simba and Gol Kopjes.
The Ma'asai people do not normally like to be photographed but we made arrangements to take a few pictures.
Our southern safari was only four days. We stayed at Selous Safari Camp, which is a very nice tented camp. It is located on the Rufiji River. We toured using a four-wheel drive vehicle and went out on the river in a boat. The boat allowed us to photograph some birds which we could not see from land and to get a different perspective on the animals which come to the river to drink.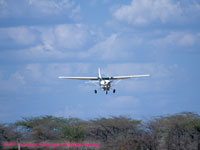 The only way to reach the camp is by small plane. Before the plane can land a park ranger chases the zebras away from the landing strip.
On Pemba, the island north of Zanzibar, we stayed at the Fundu Lagoon Resort. It was also very nice and very accommodating. We did some diving with them. And we briefly visited Zanzibar. Stone Town, the capital of Zanzibar, is famous for these doors.
The M.V. Kisiwani is a live-aboard dive boat which operates around Pemba. It was too crowded and I would not recommend it for most people even though we enjoyed the diving.
We returned in October 2003 for a short visit to Mahale Mountains and Ruaha National Parks. See the monkeys page for the chimpanzees of Mahale.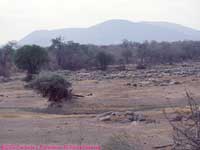 The Great Ruaha River used to flow all year, but now it dries up during the dry season due to diversion for agriculture upstream.
The remote landscape of Ruaha is very beautiful.
©2001, 2002, 2003 Mermaid Underwater Photographic. All Rights Reserved.
Contact us at mermaid@underwater.org.
Last modified 22 July 2009