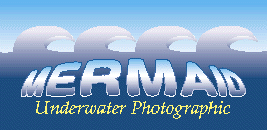 This version of the Mermaid logo was designed by Jack Wickwire, as an update to the original design by Susan Watson. It was originally intended for business cards and so looks best in 24 bit color - the web page version doesn't do it justice.
We thank Jack for his fine artwork! Susan too!
---
This page sponsored by Mermaid Underwater Photographic. Contact us at mermaid@underwater.org.
Last modified 19 January, 1997