Chechem Ha
Mayan pottery was discovered in a cave called Chechem Ha.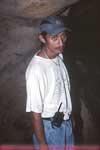 Antonio Morales discovered the cave on his family property. He was our guide.
After a moderate walk up the hill, we arrived at the cave. We each had a flashlight.
The cave is known for the many Mayan pots.
In some areas of the cave we saw stalactites. These form as water, carrying limestone, drips down from the ceiling. The water is still flowing, as seen in the close-up. So these stalactites are getting bigger.
We climbed down into the lower cave. There are no pots here. Some of our group climbed through some holes into adjacent areas and checked out the limestone formations.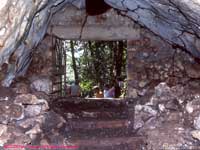 This is the view at the cave entrance, looking out.
There were a few animals in the cave. We photographed a few - check our animals page.
Back to Belize Photo Gallery Back to home page
©2003, 2016 Mermaid Underwater Photographic. All Rights Reserved.
Contact us at mermaid@underwater.org.
Last modified 23 June 2016