Caracol
Caracol is a very large Mayan ruin, bigger than Tikal. It is being excavated. See www.caracol.org for details on the project.
Construction
The construction work is extensive. Some areas are under covered tarps.
Buildings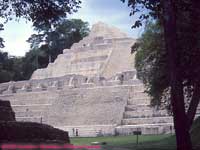 This temple is the tallest building in Belize.
Several temples are being excavated and reconstructed. The friezes are duplicates of the originals but are made from modern materials.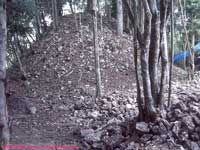 This is what a temple looks like before it is excvated and rebuilt.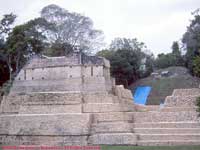 And here is a rebuilt building in front of one where excavation has just been started.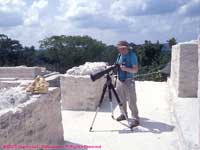 Paul carried the big lens and tripod to the top of one of the temples.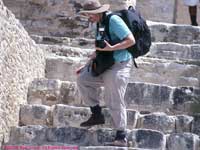 Charlotte is walking carefully down the stairs. Notice that no two steps are the same height.
Back to Belize Photo Gallery Back to home page
©2003, 2016 Mermaid Underwater Photographic. All Rights Reserved.
Contact us at mermaid@underwater.org.
Last modified 23 June 2016