Altun Ha
Altun Ha is a small Mayan Ruin near Belize City.

Many cruise ships go south from Miami on one-week excursions. They arrive at Belize, their southen-most port, on Wednesday, and then head back north.
Altun Ha is the closest Mayan ruins to Belize City, so people from the cruise ships are often brought here.
We arrived at Altun Ha and found no fewer than fifteen busses in the parking area. This was more tourists than we saw on the rest of the trip, including Tikal.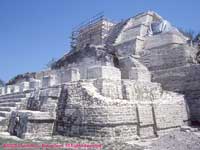 With care it is possible to photograph the ruins without lots of people.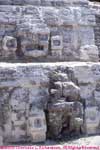 This is a sun god carving.
Back to Belize Photo Gallery Back to home page
©2003, 2016 Mermaid Underwater Photographic. All Rights Reserved.
Contact us at mermaid@underwater.org.
Last modified 23 June 2016