Seychelles
The Seychelles lie one thousand nautical miles east of Mombasa, Kenya, in the middle of the western basin of the Indian Ocean, between 4 and 10 degrees south latitude and 46 to 56 degrees east longitude. The archipelago covers an area of about 155,000 square miles, while the surface area of the 115 or so islands is 176 square miles. Twenty-one of the islands are inhabited.
The 40 central granite islands are home to many indigenous species, including eighty-one plants and thirteen land birds. The bedrock is pre-Cambrian granite, 650 million years old. The approximately sixty out islands, outside of the Seychellois Plateau, are coral atolls. There are over one hundred indigenous coral species among the 2500 species found in the archipelago.
The Seychelles were first visited by Arab traders in the 7th to 10th century. The islands were uninhabited until about two hundred years ago. The 70,000 or so Seychellois islanders are a mixture of European, African, and Asian peoples, and speak a French-based Creole, English, and French. The mean temperature is 80 degrees Fahrenheit, the tap water is potable, and there is no malaria and no yellow fever.
We visited the Seychelles in 1992 and 1993. The main reason for our visit was two-fold. We operated the CQ WW CW contest from Mahe in November 1992, and we came back to photograph the giant tortoises in the wild on Aldabra Atoll to fulfill a promise Charlotte had made to a friend on Santa Cruz Island in the Galapagos many years earlier, the only other place where giant tortoises are still found.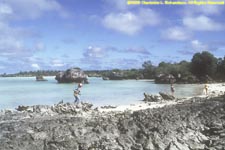 Aldabra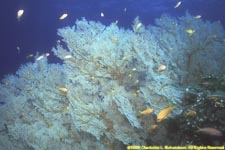 Alphonse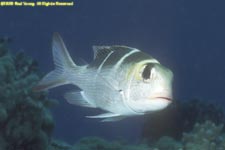 Assomption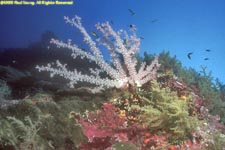 Astove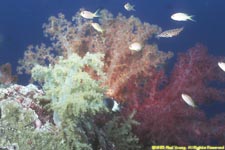 Cosmoledo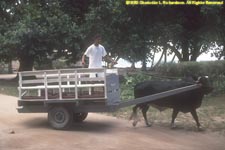 La Digue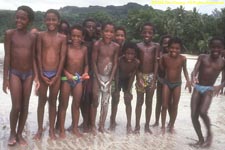 Mahe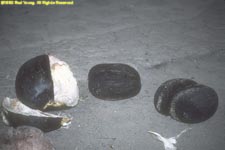 Praslin
©2009, 2014, 2016, 2017, 2018, 2019 Mermaid Underwater Photographic. All Rights Reserved.
Contact us at mermaid@underwater.org.
Last modified 5 November 2019