Philippines Photo Gallery: Typhoon Nina
We took an underwater photography trip to the Philippines in December 2016. Typhoon season usually ends by the end of November. Typhoon Nock-ten, known in the Philippines as Typhoon Nina, was the strongest tropical cyclone ever recorded on Christmas Day in terms of sustained winds. The storm reached category 5 on December 25th. It reached Puerto Galera on December 26th, preventing us from getting back across the Verde Passage to Anilao for the second half of our dive trip.
Since we had wifi at the Marco Vincent Dive Resort in Puerto Galera, just across the Verde Passage from Batangas, we were able to watch the approach of the storm.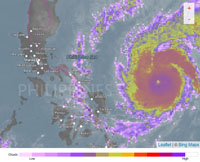 The Philippines Coast Guard stopped all boat traffic on Christmas Day in advance of the storm. All ships headed for the harbors-of-refuge. The resort's large dive boat, the "Big Beth" is in the harbor-of-refuge behind Sand Bar, with the smaller "Lady Merci" hidden behind it. The various beach toys from White Beach were also in the small boat harbor. Larger ships and container ships were in the outer harbor.
We spent Christmas Day touring around the area, since the dive boats were not able to go out. It was the calm before the storm for us.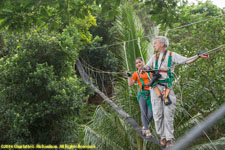 Christmas Day touring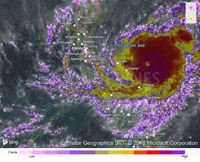 The eye of the storm passed directly over Batangas on December 26th. The back side of the storm, as it passed to our west, was much windier than the first half. The storm cost us two days of diving in Puerto Galera. During the height of the storm, the street in front of the hotel was knee-deep in water, and the swimming pool was overflowing into the first-floor rooms (including ours). Power was shut off in Puerto Galera, but the hotel generator stayed up, and even (most of the time) the internet connection. A huge pile of towels and bathmats kept most of the water out of our room, where we had piled everything on top of the beds to keep it (mostly) dry.
The rain stopped by late afternoon in Puerto Galera and the cleanup began.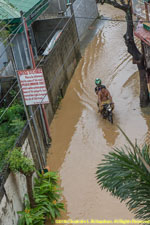 By December 27th the storm was well west of the Philippines and was breaking up after having made landfall on eight islands.
We were able to cross the Verde Passage to Anilao, arriving there a day later than planned.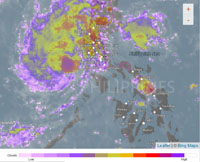 Damage at the ferry dock at Puerto Galera, and the canopy of the "Lady Merci" was lost in the storm.
On the northern side of the Verde Passage at Anilao, repairs were underway too. A large car ferry had run aground when the storm track veered off its predicted route and brought strong storm surge to the usually-protected refuge area.
---
©2016, 2017 Mermaid Underwater Photographic. All Rights Reserved.
Contact us at mermaid@underwater.org.
Last modified 30 January 2017