Philippines Photo Gallery: Puerto Galera
We took an underwater photography trip to the Philippines in December 2016.
Puerto Galera is the northernmost city in the province of Oriental Mindoro on the southwestern end of the Isla Verde Passage about 81 miles south of Manila. Puerto Galera's deep-water harbor, protected on all sides, is a favored anchorage. Puerto Galera ("Port of the Galleons") is one of the oldest Spanish settlements in the Phlippines, founded in 1572.
Some of the most diverse coral reef diving in Asia is found here, including over 180 species of nudibranchs. It is also one of the main technical diving destinations in Asia.
We stayed at the Marco Vincent Dive Resort on White Beach. The separate dive shop had a large dedicated camera room for setup.
They were using two dive boats. The smaller, faster boat, the Lady Merci, was our usual transport. It docks at the Puerto Galera ferry dock so getting to the boat involved a ride in a jeepney bus. We would do two morning dives, have lunch at the picnic beach where we would have earlier dropped off the chefs, rest for a while, do an afternoon dive, and then return to the dock by late afternoon and take a jeepney back to the resort.
The larger boat, the Big Beth, is used for larger groups or when the resort has a multi-day charter to Apo Reef. It is large enough that lunch can be cooked on the boat. This boat is an outrigger design and can come right up to the beach at White Beach, a short walk from the resort, so no jeepney ride is needed to get to it.
The outriggers make the Big Beth very stable in the water.
NOTE: We are not experts on the animal species. If you find we have misidentified something, email us and we will correct it.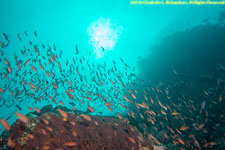 Verde Island Passage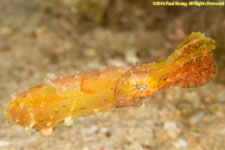 Muck diving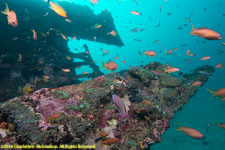 Wreck diving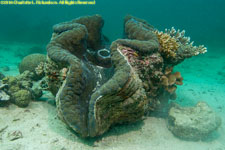 Giant clams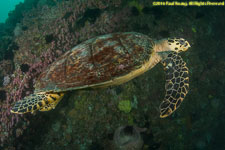 Other dive sites
---
©2016, 2017, 2018 Mermaid Underwater Photographic. All Rights Reserved.
Contact us at mermaid@underwater.org.
Last modified 24 April 2018