Molluscs
Molluscs, a large phylum of invertebrate animals, are the largest marine phylum, including about 23% of all marine organisms. Cephalopods, including the octopus, are among the most neurologically complex invertebrates. Gastropods (snails and slugs) are the most numerous molluscs, about 80% of the total.
Octopus
Big blue octopus, Octopus cyanea

Bivalves
variable thorny oyster, Spondylus varius

Cock's comb oyster, Lopha cristagalli

Honeycomb oyster, Hyolissa hyotis

Ducal thorny oyster, Spondylus squamosus

Black lip pearl oyster, Pinctada margaritifera

Fluted giant clam, Tridacna squamosa

Boring clam, Tridacna cf. crocea

Snails

Top shell, Tetus cf faveolatus


Worm shell, Serpalorbis grandis

Maldives sponge snail, Coriocella hibyae

Nudibranchs

Rose phyllidiella, Phyllidiella rosans

Elegant phyllidia, Phyllidia elegans

Phyllidiella sp.

Rudman's phyllidiella, Phyllidiella rudmani

Pleurobranchus cf forskali

Sea-blue phyllidia, Phyllidia marindica

Varicose wart slug, Phyllidia varicosa

Bohol discodoris, Discodoris boholiensis


Brown-edged glossodorid, Glossodoris hikuerensis

Indian caloria, Caloria indica

Green tambja, Tambja olivaria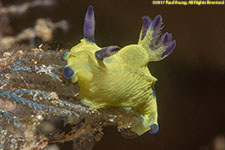 ©2018 Mermaid Underwater Photographic. All Rights Reserved.
Contact us at mermaid@underwater.org.
Last modified 4 February 2018