Madagascar Photo Gallery: Mandrare River
The Mandrare River in the Amosy region of southeastern Madagascar flows into the Indian Ocean near Amboasary Sud. The Mandrare River Camp, where we stayed, is near the village of Ifotaka, about three and a half hours' drive from Ft. Dauphin. The river flows through the semi-arid Antandroy spiny forest region forming a deciduous gallery (riverine) forest. The sacred spiny forest area hosts the ornate tombs of the Antandroy ancestors. Lemur species found in the area are ring-tailed lemur, verreaux's sifaka, mouse lemur, and white-footed sportive lemur (which we saw but could not photograph).
Mandrare River Camp has six tents on the river bank, each with solar hot water and solar electrical power for lighting.
Villages
Ifotaka village dancers
Drummer and singers:
Sisal plantation
The sisal is used to make a soft rope, used to tie up livestock. The big trucks that haul it really tear up the roads.
Spiny forest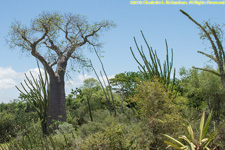 Sacred spiny forest and tombs
The Antandroy people protect large pristine wildlife areas of spiny forest that are home to the ornate graves of the Antandroy ancestors. Sacred areas are marked by zebu horns.
Riverine forest
Riverine (or gallery) forests are corriders along rivers or wetlands in landscapes that are otherwise dry. Ifotaka Community Forest protects sub-arid thorn thicket with some dry gallery woodland. It was established in 2006 as the south;s first protected area to involve local communities in its management. Its 20,000 hectares are managed rather than strictly protected. Mandrare River Lodge is at the southern end of the protected area.
Mandrare River
At the beginning of the rainy season when we visited, the water level was just starting to rise in the river due to rains in the mountains.
Markets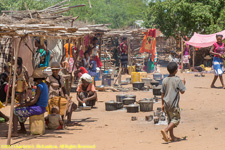 ©2016, 2017, 2018 Mermaid Underwater Photographic. All Rights Reserved.
Contact us at mermaid@underwater.org.
Last modified 23 April 2018