Nitzana
The 3rd century B.C.E. Nabatean city of Nitzana was a trading post on the caravan route from Eilat to Gaza. There were two churches and a fort. A large find of Byzantine papyri, written in Greek and Arabic, here in 1935-7 provided much of what information is known today about the Nabatean cities of the Negev. Nitzana is in the far western Negev near the border crossing into the Sinai. The city was conquered by the Romans and later inhabited by Byzantine Christians until the Muslim conquest of Syria in the seventh century C.E. Most of the stones were recycled into buildings in Gaza in the early twentieth century. The German-Turkish hospital was built in 1906-1917 on the ruins of a Byzantine fort.
The Nitzana Hillocks are south of Tel Nitzana within sight of Egypt. The wind-weathered stone is chalk and limestone, with harder flint on top.
Negev gazelles, near the Egyptian border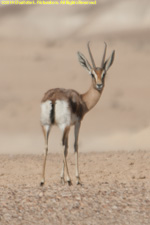 ©2015, 2016 Mermaid Underwater Photographic. All Rights Reserved.
Contact us at mermaid@underwater.org.
Last modified 29 June 2016