Indonesia Photo gallery: Sanur Beach and surrounds
Sanur is a 5 km coastal stretch of beach east of Denpasar in southeastern Bali. It has many resorts and restaurants, and is convenient to other sights in the area.
Tanah Lot:
Tanah Lot is an offshore rock formation with an ancient Hindu pilgrimage temple, Pura Tanah Lot, about 20 km from Denpasar. This is the most-visited temple on Bali.
Taman Ayun:
Pura Tamun Ayun is the royal temple of the Mengwi Empire, located in Mengwi Village (Mengwi Badung). It is surrounded by a big fish pond and has a wide landscaped garden in its front courtyard.It was built in 1634 and renovated in 1937.
CQ WW CW from YB9/K1XM at the Wirasana Inn in Sanur Beach: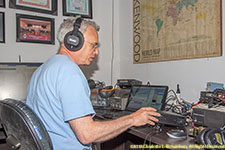 ©2019 Mermaid Underwater Photographic. All Rights Reserved.
Contact us at mermaid@underwater.org.
Last modified 30 July 2019