Iceland Arctic Tern Photo Gallery
Arctic terns (Sterna paradisaea) are slender, elegant terns. The pesky birds aggressively defend their nesting areas - even if the photographer is a long ways from the nest site. They migrate to the Antarctic for the winter.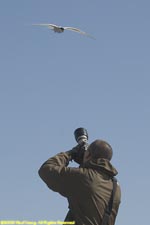 ©2008 Mermaid Underwater Photographic. All Rights Reserved.
Contact us at mermaid@underwater.org.
Last modified 10 August 2008