Iceland Passerine Photo Gallery
Meadow pipits (Anthus pratensis) are the most common Iceland passerine.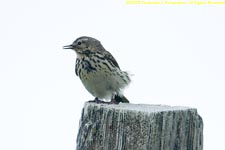 White wagtails (Moticilla alba) are a small lively passerine that constantly flick their long tails.
Snow Buntings (Plectrophenax nivalis) live in barren areas and highlands.
©2008 Mermaid Underwater Photographic. All Rights Reserved.
Contact us at mermaid@underwater.org.
Last modified 14 August 2008