Florida Photo Gallery: key deer
Key deer, Odocoileus virginianus clavium, miniature white-tail deer about the size of a large dog, are found on Big Pine Key and No-name Key. Of a total population of around 800 animals, we saw seventeen. While it is illegal to feed them, from the behavior of some of the animals on No-name Key it is clear that people have been doing so from cars.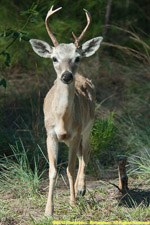 ---
©2013, 2017 Mermaid Underwater Photographic. All Rights Reserved.
Contact us at mermaid@underwater.org.
Last modified 14 April 2017