Florida Photo Gallery: Key Largo
Christmas Day in Key Largo: out on the bay in Ed's boat.
Bird rescue center.
White ibis (Eudocimus albus):
Brown pelicans (Pelecanus occidentalis):
Great egret (Ardea alba), snowy egrets (Egretta thula), black vultures (Coragyps atratus), and gull:
Spider: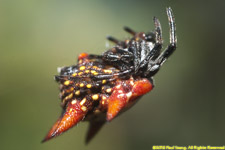 ---
©2013, 2017 Mermaid Underwater Photographic. All Rights Reserved.
Contact us at mermaid@underwater.org.
Last modified 2 June 2017