Unfinished Obelisk Photo Gallery
In this ancient granite quarry just south of Aswan, this partially-quarried gigantic obelisk was abandoned after three sides of the shaft were already carved when a flaw was found in the stone. Had it been completed, it would have stood 41m high.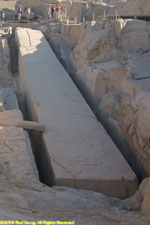 ---
©2010 Mermaid Underwater Photographic. All Rights Reserved.
Contact us at mermaid@underwater.org.
Last modified 17 February 2010