Saqqara Photo Gallery
Saqqara (sometimes spelled Sakkara) is one of the richest archeological sites in Egypt. The step pyramid of Djoser is the earliest of Egypt's pyramids and the oldest existing stone structure in the world, dating back nearly 5000 years. It was built for 3rd-dynasty King Djoser by Imhotep, his high priest.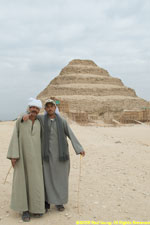 ---
©2010, 2016 Mermaid Underwater Photographic. All Rights Reserved.
Contact us at mermaid@underwater.org.
Last modified 29 June 2016