Giza Photo Gallery
Giza is the southwest suburb of Cairo. The pyramids and the Sphinx are thus right at the edge of the city, with the desert plateau on the west side. The pyramids are easily visible from the elevated highway along the west side of Cairo and from the air as you take off or land at the airport. The "solar boat" was discovered in 1954 dismantled and buried in a trench next to the Great Pyramid of Cheops (Khufu). The 140-foot funerary boat is the oldest ship ever found. Putting its 1200 pieces back together required 14 years. A second similar boat lies in a nearby pit but has not been excavated. The 20m tall Sphinx has the head of Cephren (Khafre, builder of the second pyramid and son of Khufu) and the body of a lion. Originally the Sphinx was painted bright colors, traces of which remain. The smaller third pyramid is that of Menkaure (Mycerinus), Khafre's successor, next to three pyramids of the Queens.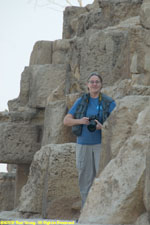 ---
©2010, 2016 Mermaid Underwater Photographic. All Rights Reserved.
Contact us at mermaid@underwater.org.
Last modified 29 June 2016