Aswan Photo Gallery
Aswan is Egpyt's southernmost city, downriver from the First Nile Cataract. The city guarded Egpyt's southern frontier with Nubia and Sudan and was an important trading center. Aswan is home to a large Nubian population. Kitchener's Island has a tropical botanical garden which attracts huge flocks of birds. It was built by British general Horatio Kitchener in the 1890s. We sailed north from Aswan to Luxor on the Oberoi Philae.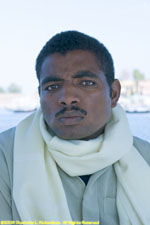 ---
©2010 Mermaid Underwater Photographic. All Rights Reserved.
Contact us at mermaid@underwater.org.
Last modified 2 March 2010