Adirondacks Photo Gallery
We visited the Adirondacks over July 4th weekend, 2014. We wanted to explore the area, having never been there before, by private plane, by car, and on foot. Next time may be by boat.
The flight out to Glens Falls was in instrument conditions, dodging squall lines coming in from the west. So we were long since on the ground, tied down, and enjoying supper when the worst of the thunderstorms and torrential downpours came through the Lake George area.
Punching through clouds at 8000':
Threading my way between thunderstorms. The passage of the cold front made for dramatic clouds the following days, but also lots of wind.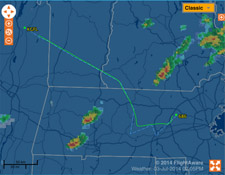 Along the parkways:
We love waterfalls. Teenagers like to jump off the cliffs into the gorges, and tubers, kayakers, and rafters enjoy the white water.
Hiking to a fire tower is a great way to catch views of the High Peaks region from the ground.
Critters:
Charlotte had hoped to fly a floatplane before heading home. This plan did not work out, though with the amount of wind it probably would not have been possible anyway. The flight home was quick, with close to fifty knots of tail wind. It was a smooth ride at high altitude but unpleasant below about 4500' due to wind shear, and unpleasant landing back home. We left early and so got back before the weather got too wild.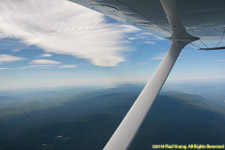 ---
©2014, 2018 Mermaid Underwater Photographic. All Rights Reserved.
This page sponsored by Mermaid Underwater Photographic. Contact us at mermaid@underwater.org.
Last modified 14 February 2018