Philippines Photo Gallery: calm
We took an underwater photography trip to the Philippines in December 2016. Christmas Day touring, the calm before the typhoon.
Puerto Galera scenes:
White Beach:
Mangyan village: The Mangyan are the indigenous people of Mindoro Island, arriving about 800 years ago. They are a proto-Malay people and make up about 10% of the population of Mindoro. There are eight tribal groups, each with their own language and customs. The Iraya-Mangyan people here in Talipanan were driven out of the hills several decades ago by fighting between the government and the communist New People's Army rebels. They settled along the beach just north of Talipanan Beach. The wealthy family who owned that land built a sustainable-livelihood program for the indigenous Mangyan and helped revive the basket-weaving craft.
Canopy walk at the 9-hole Ponderosa Golf Club, 2000' up into the mountains southwest of Puerto Galero:
Tamaraw Falls: A tamaraw is a Mindoro dwarf water buffalo (Bubulus mindorensis). A wildlife preserve in the northwest corner of Mindoro protects this endanagered endemic species. It is also sometimes found in two other areas of Mindoro.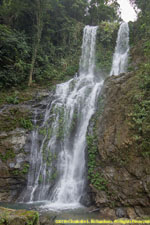 ---
©2016, 2017 Mermaid Underwater Photographic. All Rights Reserved.
Contact us at mermaid@underwater.org.
Last modified 30 January 2017