Philippines Photo Gallery: Anilao hawkfish
We took an underwater photography trip to the Philippines in December 2016.
Hawfish have large heads and merged dorsal fins, the first consisting of ten connected spines. At the tip of each spine are several trailing filaments.
Coral hawkfish, Cirrhiticthys falco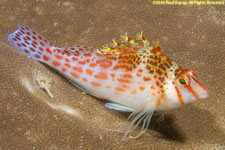 Spotted hawkfish, Cirrhitichthys aprinus
---
©2016, 2017 Mermaid Underwater Photographic. All Rights Reserved.
Contact us at mermaid@underwater.org.
Last modified 21 February 2017